Throughout the year, we have numerous fundraising opportunities upon which we are reliant on volunteer support for their success. These can include bucket and street collections, event support at organised sporting events, information stands at fetes and exhibitions, and representing ELF at community event presentations and talks.
On this page, we list all volunteer opportunities for which we need support. If you can donate a couple of hours of your time to volunteer at an event, then we'd love to hear from you! Please contact our fundraising team to register your interest. Email enquire@elfcharity.org.uk or call Andy and Gary on 01392 493344 (option3).
Volunteers needed:
Bucket collection – Morrisons Exeter - September 24th (Friday) and 26th (Sunday)
Morrisons in Exeter has kindly granted us permission to hold two bucket collections during September for Blood Cancer Awareness month. This is a great opportunity to raise both funds and awareness. We need volunteers to work two-hour slots throughout the day on Friday 24th and Sunday 26th September. We will set up the ELF gazebo and provide chairs. Ideally, we would like two volunteers for each slot.
Please note, we now have contactless card payment devices which can be used alongside the standard collection buckets, allowing more opportunities for people to donate. Volunteer and donor safety are very important to us, so we will provide all volunteers with face masks and hand sanitiser for each collection. (You can, of course, wear your own face mask if preferred).
Charity car park - Barnfield Crescent Exeter - Sunday 3rd and Sunday 24th October - 9.30am until 2pm
At weekends, this centrally located Exeter car park allows charities to collect the parking payments as donations. Parking prices are set and decrease as the day progresses. 
We have been allocated two dates to collect in October. Volunteers are needed to collect the car parking payments at the entrance, where a hut and chairs are on site for volunteer use. We will provide collection buckets and card readers to accommodate for cash and card donations. 
Shifts available are 9.30-12 and 12-2, although these can be flexible depending upon demand.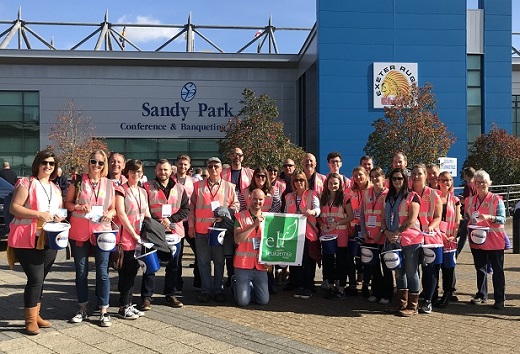 Bucket collection – Exeter Chiefs vs Newcastle Falcons at Sandy Park - Saturday 6th November
ELF is allocated one Chiefs home game per season for a bucket collection, which raises approximately £1,500 for us each year. We need 30 volunteers to collect before, at half time and after the game. Volunteers are entitled to watch the game from the side lines, so this a great opportunity for any rugby fans. For those who have never visited Sandy Park, it is a fantastic atmosphere and rugby fans tend to give generously, particularly if Chiefs win!
Kick-off is scheduled at 3pm (to be confirmed), so volunteers are needed at Sandy Park from 2pm until 20-30 minutes after the game has finished. As we need 30 volunteers, please share this with any rugby-loving friends or family who might also be interested in helping.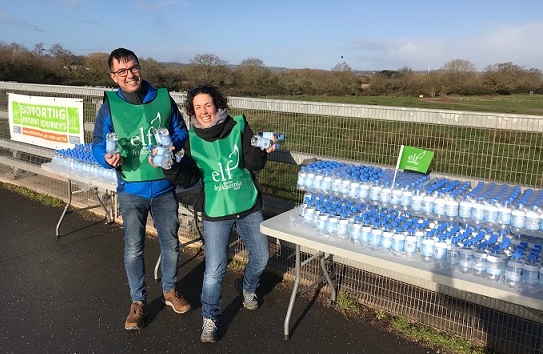 Event support - Exeter Marathon (based at Exeter Quay) - Sunday 7th November - 8.30/9am until 1pm (approx)
ELF is a charity partner at this Exeter City Community Trust (ECCT) event, and we have runners competing and raising sponsorship on our behalf. Volunteers are needed to man an ELF water station or to help at the finish area distributing medals and bags. ECCT already held the Exeter Half Marathon in June using staggered start times and social distancing to much success. 
Volunteering at races is always a great community occasion. As well as helping people who have been training for months to run for a cause close to their hearts, it is always great fun cheering runners on and giving those in ELF vests an extra boost when needed!
Collection Box Co-ordinator role - Crediton, Exeter and Sidmouth
Collection Box Co-ordinators (CBCs) are some of our key volunteers, whose role it is to manage the ELF collection boxes within a designated region. The role involves establishing new collection box sites in shops and businesses, collecting the boxes, and counting and banking the funds.
Collection boxes bring in a steady income and are a brilliant visual tool to help raise awareness. Businesses who house a collection box are also much more likely to support ELF in other campaigns and engage in additional fundraising activities. 
CBCs are required to visit the collection box sites within their region twice a year. We currently have CBC vacancies in Exeter, Crediton and Sidmouth. If you live in one of these areas and are interested in joining our CBC volunteer team, please contact andy@elfcharity.org.uk. Full training and materials are provided.