Throughout the year, we have numerous fundraising opportunities upon which we are reliant on volunteer support for their success. These can include bucket and street collections, event support at organised sporting events, information stands at fetes and exhibitions, and representing ELF at community event presentations and talks.
On this page, we list all volunteer opportunities for which we need support. If you can donate a couple of hours of your time to volunteer at an event, then we'd love to hear from you! Please contact our fundraising team to register your interest. Email enquire@elfcharity.org.uk or call Andy and Gary on 01392 493344 (option3).
Volunteers needed: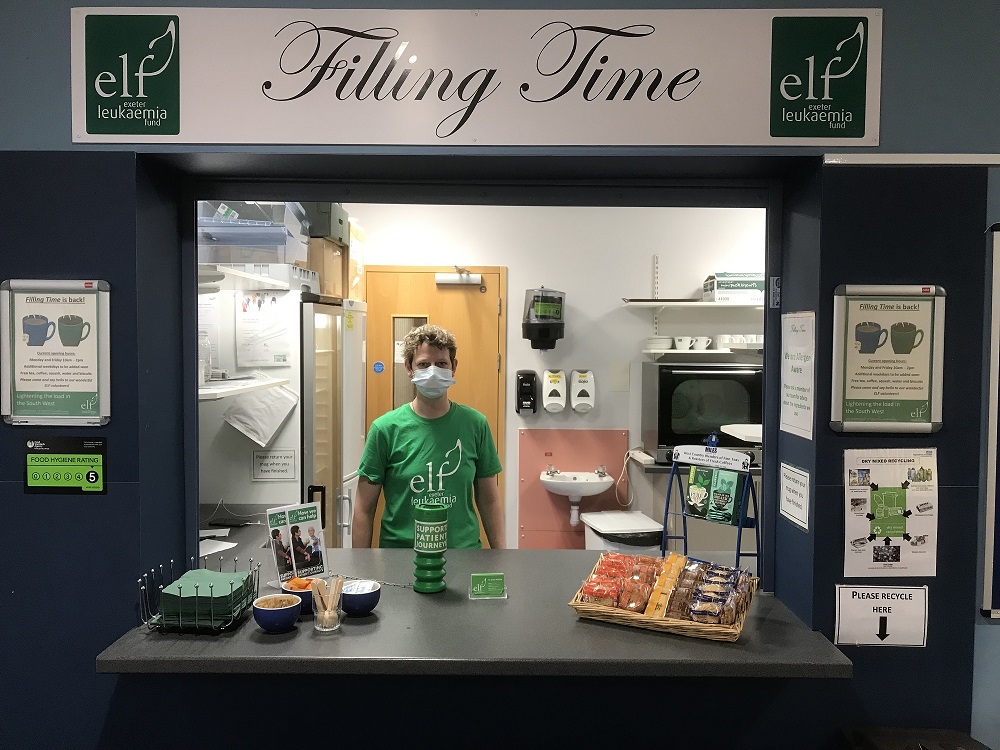 Filling Time kiosk based at the RD&E
Filling Time is the ELF refreshment kiosk based in the Haematology Centre. After an enforced closure of two years because of the pandemic, we were delighted to finally reopen on the 11th February.
Filling Time is a volunteer-led service, serving free drinks and biscuits to patients and relatives as they await clinic appointments or treatment on Day Case. Our initial aim is to have the kiosk open between 10am-2pm Monday to Friday.
Filling Time provides a fantastic opportunity to volunteer on a regular basis, directly supporting blood cancer patients and their families within the RD&E. We need individuals who are outgoing, confident, enjoy speaking with people and who can commit to one regular shift per week. 
We currently have available shifts to fill on a Tuesday and a Wednesday. Additionally, we require a team of 'reserves', who can step in to fill the odd shift when one of our regular Filling Time volunteers is unavailable. Could this be you?
Full training is provided on site by one of our existing volunteer team. 
 
Raffle ticket sellers needed - March to May
We need raffle ticket sellers in the local community to help promote and sell tickets for The ELF Spring Raffle, sponsored by Vospers Ford Motability. Tickets are only £1 each, with a first prize of £500 cash.
You can help by registering to sell tickets to family, friends, neighbours, local businesses and at your own place of work to customers and colleagues.
All funds raised from the raffle will support local blood cancer patients and their families. For more information, or to register for tickets to sell, , please  CLICK HERE.
Charity car park - Barnfield Crescent Exeter - Recruiting for 2022 dates
At weekends, this centrally located Exeter car park allows charities to collect the parking payments as donations. Parking prices are set and decrease as the day progresses. Volunteers are needed to collect payments at the car park entrance, where a hut and chairs are on site for volunteer use. We provide collection buckets and card readers to accommodate for cash and card donations. 
Due to our performance in 2021, we are delighted to have been offered a monthly slot at the car park throughout 2022. We would like to establish some permanent volunteers in the role Car Park Coordinators to represent ELF at this site next year. Our 2022 collection dates are 15th January / 19th February / 20th March / 16th April / 22nd May / 11th June / 9th July / 13th August / 17th September / 8th October / 19th November / 18th December.
NEW Exminster Fundraising Group - would you like to become a committee member?
Following on from the recent ELF Fashion Show in the village and the high levels of support for our Exminster shop, we are creating a new ELF Exminster Fundraising Group. If you live in the Exminster area and would like to become involved in arranging and hosting ELF fundraising events throughout the year, then we would love to hear from you. As our Crediton group will confirm, being part of a group is a great way of meeting new people, making new friends and being active within the local community, all whilst raising money for a cause close to all our hearts.
At this stage, we are gauging interest levels in this venture. In the spring, we will arrange a meeting for all those interested in learning more about this new group and all that it will entail. Please let us know if you would like to become involved.