Throughout the year, we have numerous fundraising opportunities upon which we are reliant on volunteer support for their success. These can include bucket and street collections, event support at organised sporting events, information stands at fetes and exhibitions, and representing ELF at community event presentations and talks.
On this page, we list all volunteer opportunities for which we need support. If you can donate a couple of hours of your time to volunteer at an event, then we'd love to hear from you! Please contact our fundraising team to register your interest. Email enquire@elfcharity.org.uk or call Andy and Gary on 01392 493344 (option3).
Volunteers needed:
Event support - Exeter Half Marathon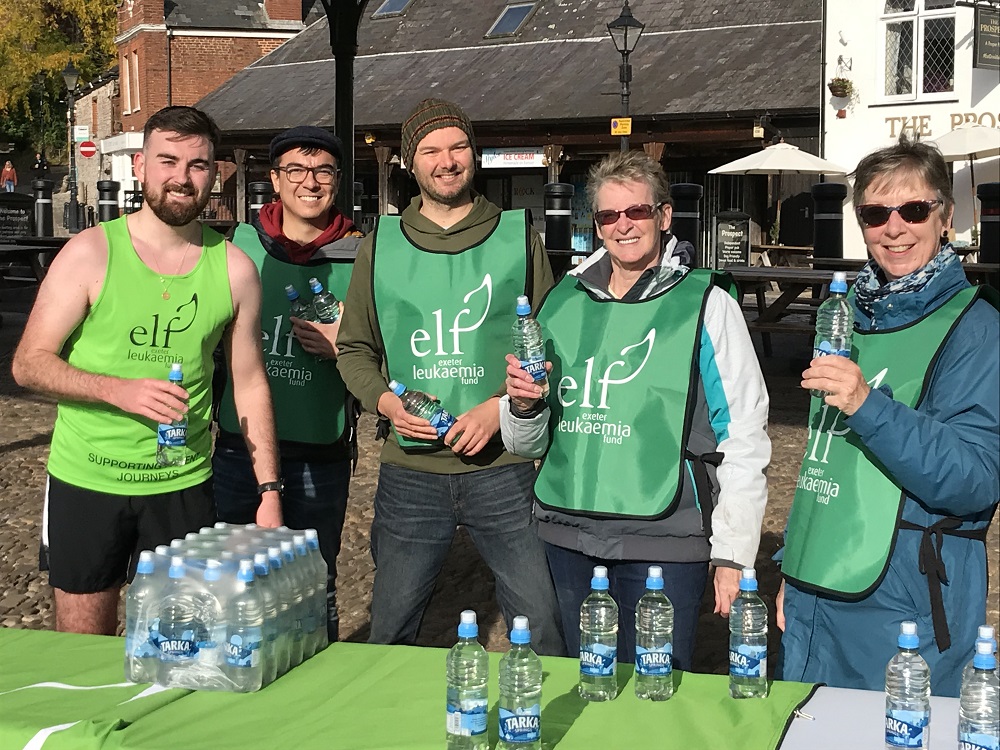 We are excited to be continuing our relationship as a charity partner for Exeter City Community Trust (ECCT) for the next two years, up to 2024. As a charity partner, ELF benefits from free places for our supporters in ECCT's annual running events, as well as providing volunteer teams to support these events whilst promoting our charity to the wider community.
The first event of 2022 is the Exeter Half Marathon, on Saturday 12th and Sunday 13th February. We need volunteers to assist at an ELF water station along the course route, handing water bottles to runners as they pass by and providing vocal encouragement! It is always a fun morning at ECCT events, supporting those who are running for good causes and cheering on people who in many instances have been training for months in preparation for completing their first half marathon distance.
Charity car park - Barnfield Crescent Exeter - Recruiting for 2022 dates
At weekends, this centrally located Exeter car park allows charities to collect the parking payments as donations. Parking prices are set and decrease as the day progresses. Volunteers are needed to collect payments at the car park entrance, where a hut and chairs are on site for volunteer use. We provide collection buckets and card readers to accommodate for cash and card donations. 
Due to our performance in 2021, we are delighted to have been offered a monthly slot at the car park throughout 2022. We would like to establish some permanent volunteers in the role Car Park Coordinators to represent ELF at this site next year. Our 2022 collection dates are 15th January / 19th February / 20th March / 16th April / 22nd May / 11th June / 9th July / 13th August / 17th September / 8th October / 19th November / 18th December.
NEW Exminster Fundraising Group - would you like to become a committee member?
Following on from the recent ELF Fashion Show in the village and the high levels of support for our Exminster shop, we are creating a new ELF Exminster Fundraising Group. If you live in the Exminster area and would like to become involved in arranging and hosting ELF fundraising events throughout the year, then we would love to hear from you. As our Crediton group will confirm, being part of a group is a great way of meeting new people, making new friends and being active within the local community, all whilst raising money for a cause close to all our hearts.
At this stage, we are gauging interest levels in this venture. In the spring, we will arrange a meeting for all those interested in learning more about this new group and all that it will entail. Please let us know if you would like to become involved.
Collection Box Co-ordinator role Honiton
Collection Box Co-ordinators (CBCs) are some of our key volunteers, whose role it is to manage the ELF collection boxes within a designated region. The role involves establishing new collection box sites in shops and businesses, collecting the boxes, and counting and banking the funds.
Collection boxes bring in a steady income and are a brilliant visual tool to help raise awareness. Businesses who house a collection box are also much more likely to support ELF in other campaigns and engage in additional fundraising activities.
CBCs are required to visit the collection box sites within their region twice a year. If you live in Honiton and are interested in joining our CBC volunteer team, please contact andy@elfcharity.org.uk. Full training and materials are provided.