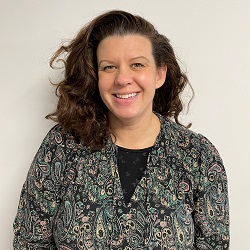 Molly Southwood – CEO 
I joined ELF in September 2022. As Chief Executive Officer I oversee all the charity's activities, with lots of support from the team, as well as working closely with the Trustees to develop our strategic objectives. I usually spend a day each week at the hospital, meeting with patients and staff, and the rest of my time is spent on administration and planning. I also try to get to as many ELF events as possible. 
It's been great getting to know the staff, volunteers and many of the people we support, and I'm looking forward to helping grow our activities. I'm very open to new ideas and suggestions, so please do get in touch if you have thoughts. 
Prior to joining ELF, I spent over 15 years in higher education fundraising and development, primarily at the University of Bath. Outside of work, I enjoy swimming (indoors and outdoors), and spending time with my family (husband Ed, daughters Immy and Katy, and Daisy the Jack Russell), usually somewhere muddy!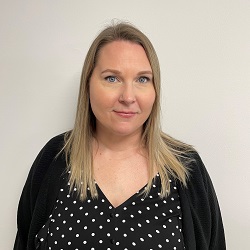 Sam Peacock – Head of Operations and Finance
After joining ELF in 2015 as part-time Finance Administrator, I progressed to Business Manager in 2018. I had the pleasure of stepping in as Charity Manager from April 2021 until our new CEO started in September 2022, which gave me a greater insight into the full operations of ELF.
I have now settled into my new role as Head of Operations and Finance, and as a newly qualified Chartered Management Accountant, I look forward to combining my skills and experience to help develop the charity further.
I enjoy spending time with my husband, three children and two dogs, who all keep me on my toes!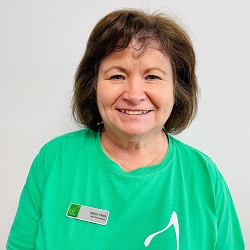 Marion Yates - Patient Liaison Support
I first became aware of ELF in 2015 when my mother was diagnosed with non-hodgkins lymphoma. In 2019 I became a befriender to a lady in Exmouth who suffered from blood cancer, visiting her weekly and becoming very good friends. When ELF re-opened at the RD&E in February 2022, I was delighted to join ELF at "Filling Time", the kiosk situated in the heart of Haematology, firstly as a volunteer and now as a staff member. You will find me there Mondays to Fridays 9am to 2pm. 
My role enables me to be a "friendly face" offering refreshments to those waiting appointments and those receiving treatment in Day Case on Yarty Ward. My aim is also to listen, support and advise on the services which ELF provides .My own personal experience has given me a real insight into those affected by blood cancer and I am able to empathise in a very genuine and sensitive manner. 
I enjoy cycling with my husband, especially along coastal cycle paths. In May this year I took part in ELF's Group Skydive which was amazing!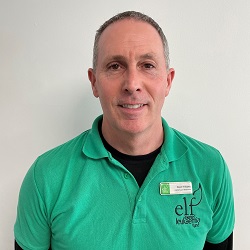 David Williams - Hospital Support Senior Driver
I joined ELF in 2013 when the transport service was introduced and have been a patient support driver ever since. I am now the Senior driver for our fantastic team of three. We feel extremely privileged to be in our role, supporting patients and their family members with the demands of their many hospital appointments. 
My interests are foreign holidays, snorkelling, hiking, kayaking and the gym.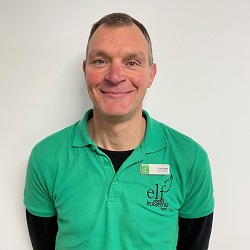 Pete Aggett - Hospital Support Driver
I joined ELF as a Patient Support Driver in February 2017. It is a really rewarding job, helping to coordinate and provide Haematology patients and their families from all over Devon with transport to and from Hospital during a tough time in their lives. I especially like being part of a close, friendly, helpful team at ELF.
I am a keen runner and have completed a number of runs in aid of ELF, including the London Marathon in 2022. I also enjoy watching most sports and walking my energetic Cocker Spaniel.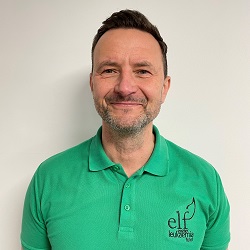 Neil Roberts - Hospital Support Driver
I joined ELF in November 2021, having discovered the wonder that charities have to offer through volunteering at the Southwest MS centre. As a hospital support driver, I mainly take patients from their home address to appointments at the RD&E and then return them home safely. I get immense satisfaction from my work on a daily basis; just knowing that I am doing my little bit to help is incredibly rewarding.
Outside of work I enjoy keeping fit at the gym, on my push bike and the occasional swim. I have great fun learning to play the guitar and my ultimate aim is to play at an open mic session.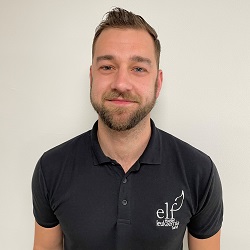 Gary Moore - Development Manager (Corporate Relationships)
I have worked for ELF since 2017 in the fundraising department. My main focus is collaborating with local businesses to establish ways that together, we can fund more support for local families whilst helping local businesses achieve their CSR goals. 
Previously working in the sales and events industry, I want to use my experience in raising money to benefit those in our community who need it the most. If you would like to discuss partnering with Exeter Leukaemia Fund, please get in touch as I'd love to catch up over a coffee. 
Outside of work, I have an interest in football and spending time with my family.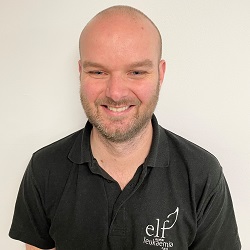 Andy Jordan - Development Manager (Community Fundraising & Volunteers)
Prior to joining ELF in 2018, I had been a volunteer for several years representing the charity at presentations and assisting at events, so I was delighted to officially join the team when the opportunity arose. 
As a Community-focused Fundraiser, no two days are the same. I could be giving a talk about our work at a school assembly, visiting a local club or society to thank them for their donation or managing a team of volunteers at a bucket collection or sporting event. I manage our fundraising volunteers and it is always a pleasure watching them interact with the public whilst raising funds and awareness for a cause that they passionately believe in. I am always on hand to encourage and direct any supporters with their fundraising so please do not hesitate to contact me if you have an idea you wish to discuss.
I am a keen traveller and enjoy weekends away or camping trips in the beautiful West Country (when the weather allows!)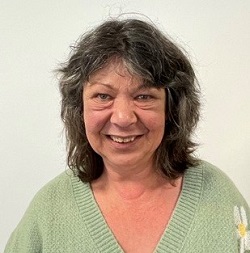 Missy Crean - Crediton Retail Assistant
Hello! I am Elizabeth, but better known as Missy. I have lived in Crediton since I was 18 and I'm a mother to Alfie and Lilianna.
Before joining ELF, I worked at Age Concern for 11 years in the Day Centre Office managing the accounts. Then the time came for a change. Post-pandemic my daughter Lilianna was a volunteer with ELF on Saturdays for a year. When the job came up for Retail Assistant in March, she said to me "Mum that would be perfect for you". Luckily ELF thought so too!
I now have a job I love, working for a charity.  This time not on the computer or phone, but actually dealing with people. I love chatting with our regular customers and I look forward to helping with some fundraising too.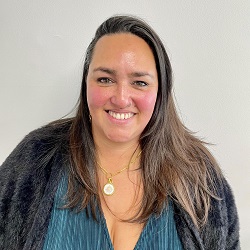 Yasmin Chandler - Exminster Retail Assistant
I joined ELF in June 2021 after having worked in high street retail for 26 years, and I run the Exminster shop three days per week . I love clothes, fashion and helping to find the perfect outfit for any occasion! I am one of those very lucky people who wake up and look forward to going to work. I love meeting new people and chatting to my lovely customers.
My husband and I have three children aged 21, 15 and a 4-year-old, two dogs and two cats, so it is a bit of a busy household! I love sea swimming, reading, shopping, walking and anything to do with true crime.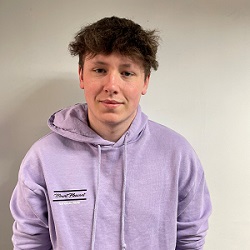 Patrick Beresford - Exminster Retail Assistant
I joined ELF in September 2022, where I knew I would be making a difference as well as putting a smile on customers' faces. Working for ELF is very rewarding, knowing that every sale is helping to fund our vital care services for the patients ELF supports.
I am studying law at Exeter University. I enjoy student life, playing the guitar and piano, and graphic design.