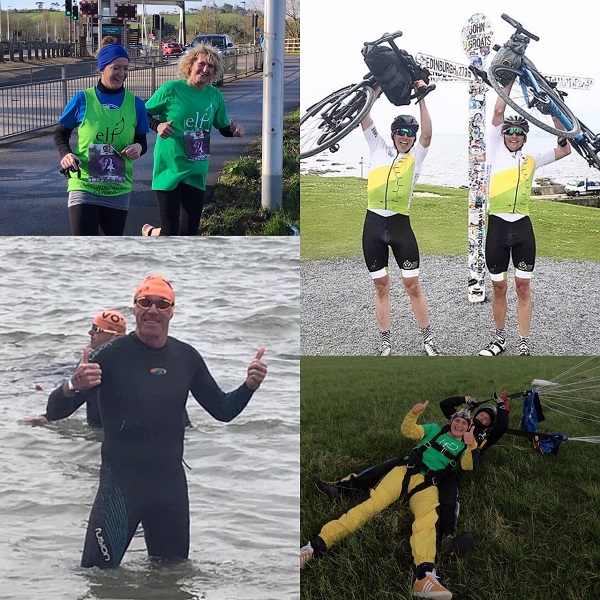 Pushing yourself to complete a physical challenge whilst raising money for a good cause is a winning combination. There are a huge number of events which occur across Devon throughout the year that you can register for in aid of ELF. Running, trekking, cycling, swimming or triathlon; pick a challenge that you've always wanted to complete and guaranteed there will be an event happening in the area that you can register for.
Whether you are a seasoned runner or a complete beginner, pick a distance that challenges you and you'll be amazed at how many people want to support you by sponsoring your efforts. It could be your first Couch to 5k, a 10k run in Exmouth, a triathlon in Torbay or even a half or full marathon in Exeter. Running races are held across the county throughout the year so there is always plenty to choose from.
Do you want to go even bigger? In recent years, our supporters have braved jumping out of planes for ELF by skydiving, cycled from Lands End to John O'Groats and across America, completed 100km treks at registered Ultra Challenge events and even sheared over 300 sheep in an endurance event! Whatever it is, pick a challenge that you've always wanted to complete and do it in support of blood cancer and blood disorder patients in Devon.
Some of the upcoming events taking place in 2022 that you can register for in aid of ELF include:
Skydive - near Honiton - various dates. Local company Skydive Buzz offer a 'Jump for Free' scheme for charity jumpers. Simply raise a minimum of £395 in sponsorship, and ELF will cover the cost of the jump for you. To book a place, search for Exeter Leukaemia Fund under the list of charities at: www.skydiveukltd.com/charities
Ultra-Challenges - various dates and locations. Take on an amazing trek at 1 of 14 breathtaking 50km or 100km routes around the UK: www.elfcharity.org.uk/events/ultra-challenge-events
Tough Runner - Exeter Epic Trail - Saturday 9th April. Set in the beautiful Escot Estate: www.toughrunneruk.com/events/exeter-epic-trail-10k/
Inflatable 5k assault course - Clyst St Mary - Saturday 23rd April. Gather your family & friends and tackle the world's largest 5k obstacle course! A fun challenge for all ages, with 2.5k, 5k, 10k, and 15k distances to choose from: www.ukrunningevents.co.uk/events/inflatable-5k
ECCT 10k River Run - Exeter - Friday 6th May at 6pm. This evening run is an ideal route for Couch to 5k and novice runners, as well as those training for longer distances. We have free places available for this event. (Contact us for details)
ECCT Marathon - Exeter - Sunday 15th May. The ultimate running challenge! We have free places available for this event (contact us for details)
The Great West Run - Exeter - Sunday 22nd May. www.thegreatwestrun.co.uk
North Devon Ocean Triathlon - Croyde - Sunday 10th July. One of the most fun and challenging events in the Triathlon calendar: www.croydeocean.co.uk
The Southwest Coast 50 - Exmoor - Saturday 6th August. This is Devon's Ultra Challenge route and is a circular 50km trek along a stunning North Devon and Exmoor trail: www.ultrachallenge.com/coast-2-coast
Tough Mudder Southwest - Badminton, Gloucester - 20&21 August. World-class obstacles, thick mud and fancy dress! 5k, 10k and 15k distances: www.toughmudder.co.uk/events/south-west/
Please note, many registered charity events have free or discounted charity places that ELF can use. To find out more, or to register for a challenge event in aid of ELF, please contact Andy at andy@elfcharity.org.uk or 01392 493344 (option 3).