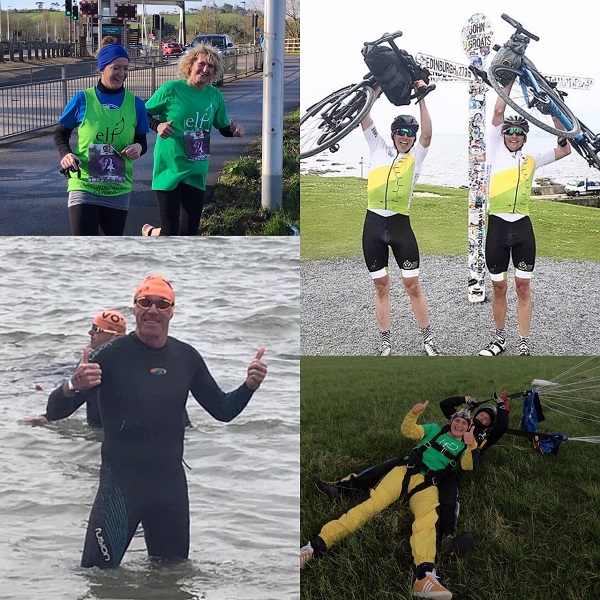 Pushing yourself to complete a physical challenge whilst raising money for a good cause is a winning combination. There are a huge number of events which occur across Devon throughout the year that you can register for in aid of ELF. Running, trekking, cycling, swimming or triathlon; pick a challenge that you've always wanted to complete and guaranteed there will be an event happening in the area that you can register for.
Whether you are a seasoned runner or a complete beginner, pick a distance that challenges you and you'll be amazed at how many people want to support you by sponsoring your efforts. It could be your first Couch to 5k, a 10k run in Exmouth, a triathlon in Torbay or even a half or full marathon in Exeter. Running races are held across the county throughout the year so there is always plenty to choose from.
Do you want to go even bigger? In recent years, our supporters have braved jumping out of planes for ELF by skydiving, cycled from Lands End to John O'Groats and across America, completed 100km treks at registered Ultra Challenge events and even sheared over 300 sheep in an endurance event! Whatever it is, pick a challenge that you've always wanted to complete and do it in support of blood cancer and blood disorder patients in Devon.
Some of the upcoming events taking place in 2021/22 that you can register for in aid of ELF include:
Any date - Skydive with Skydive Buzz
21st&22nd August 2021- Tough Mudder Southwest
5th September 2021 - The Granite Way Okehampton
12th September 2021 - Torbay Half Marathon
12th September 2021 - Exeter 10k
7th November 2021 - Exeter Marathon
22nd May 2022 - Exeter's Great West Run
Please note, many registered charity events have free or discounted charity places that ELF can use. To find out more, or to register for a challenge event in aid of ELF, please contact Andy at andy@elfcharity.org.uk or 01392 493344 (option 3).