Source & Sell Challenge
This November/December our new Bargain Hunt-style fundraising challenge is a fun way to support local blood cancer patients and their families.
It's easy to take part. Simply set a budget, buy three items (or source donated items) and sell them to raise funds for ELF.
Take part individually or set up a team competition with family and friends.
Businesses can also become involved… Set teams of colleagues or challenge departments or branches to take on each other.
Here's how to become involved:
1. SIGN UP
Sign up for your free fundraising pack below. The pack includes useful hints, tips and ideas included how to source your items and get the best possible outcome. Our pack also includes official posters to advertise your items and entry sheets to submit your results.
2. SOURCE 3 ITEMS
Set a budget for you or your teams to buy three items or make even more money for ELF by sourcing three donated items.
Donated items could be three of your own pre-loved items from your home or you could call in a favour from friends, family, colleagues or local businesses to donate goods or services.
Donated items could include:
preloved unwanted items from home
recycle or upcycle
product with a retail value
gift voucher
money-can't-buy experience
service or promise of labour
handmade art or craft
homemade sweet or savoury treats.
If you are unable to source donated items, there's always the traditional Bargain Hunt technique of buying and then selling at a profit. Here's some examples where you could purchase:
charity shops
car boot sales
recycling centres
antique shops
auction houses
wholesalers
clearance sales

buy, swap, sell online sites.
3. SELL YOUR ITEMS
There are many ways that you can make the most out of your fascinating finds:
Sell directly - You could sell directly to friends, family or colleagues, list on an online buy, swap, sell site or sell through a specialist dealer.
Auction - List through a local auction house, sell via and online auction site, auction via social media, host a live auction or run a silent auction with sealed bids. 
Raffle - Eg. A gift voucher worth £50 has a maximum sales value of £50 but selling 100 tickets at £5 could raise ten times as much.
 
4. DONATE THE PROCEEDS TO ELF
Every little helps. Even selling three secondhand books for £1 each it would still make a huge difference to help us support more patients and families across Devon.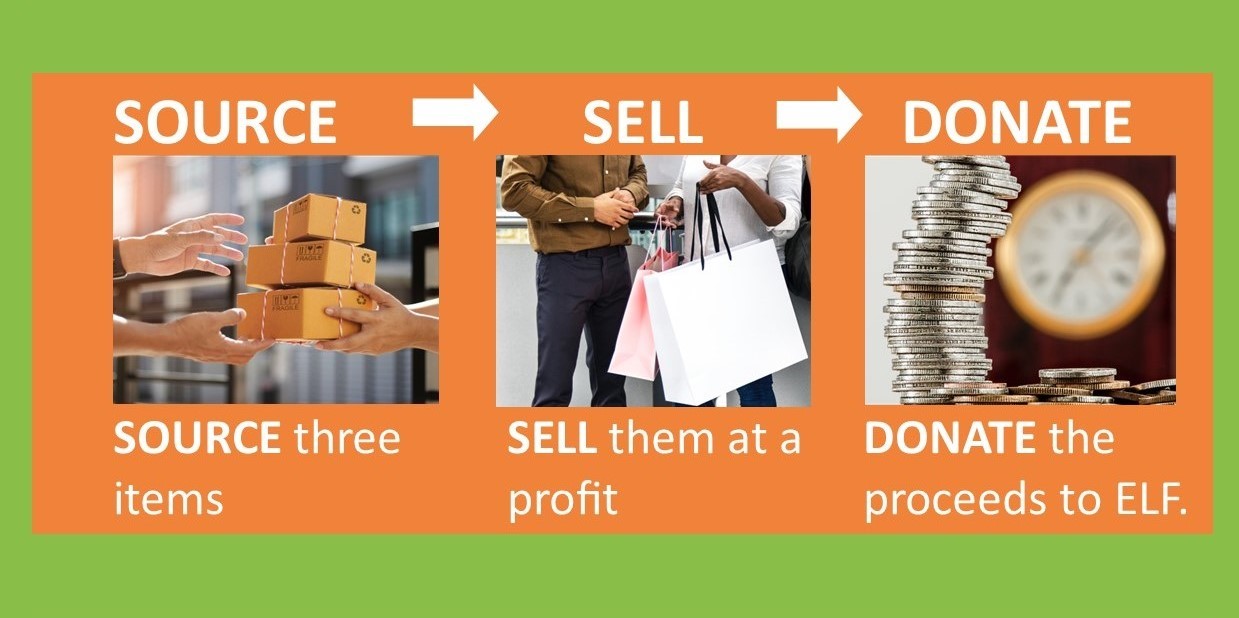 For more information about this campaign please email garym@elfcharity.org.uk or call 01392 493344 (option 3).